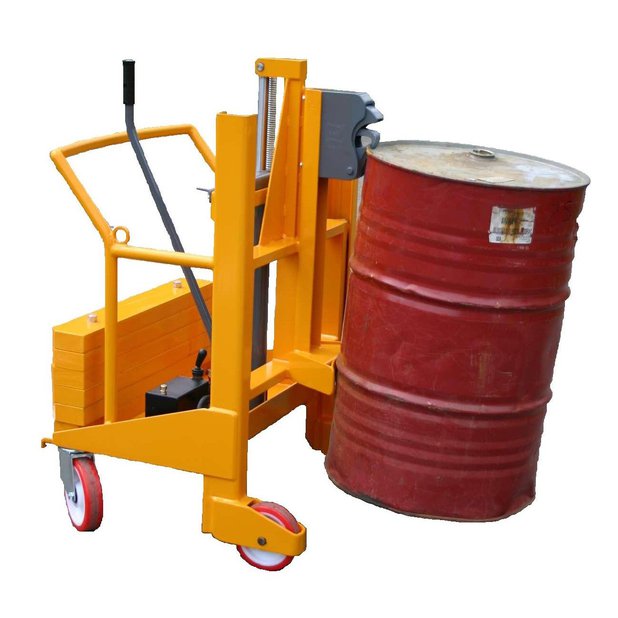 DRUM-HOLDER manual counterbalanced trolley
Counterbalanced trolley for gripping metal, plastic and cardboard drums at the top edge
---
Product code: BS91_C
Product description
DRUM-HOLDER counterbalanced trolley for gripping metal, plastic and cardboard drums at the top edge.
BS91 C is the ideal solution when you need to transport drums, equipped with upper edge, with a trolley that has the advantage of not having the bulk of the frontal feet, this allows you to place the drum on shelves that have no space underneath.
The shape of its profile and grips has been perfected on the basis of 30 years of experience, resulting in an ultra fast and super-safe drum clamping even on uneven terrain, which is why it is particularly appreciated in ports, intermodal hubs and storage areas of large companies. Moreover, the anti-wear (carbonitriding) and anti-corrosion (galvanising + painting) treatments of every detail make it practically indestructible. For this reason VEAB also supplies 3 YEARS of WARRANTY with the trolley.
The drum is automatically hooked with the lifting of the clamp (by means of a manual lever pump) and unhooked, always in automatic mode, once placed on the supporting surface.
Optional items:
Special frame designs
Available in both stainless steel and painted steel.
Tailored solutions - Custom design for your needs.
Reliable experience - Over 30 years of successes.
ATEX certification - Possibility to ATEX conversion.
Customer support - Immediate answers and solutions.
---