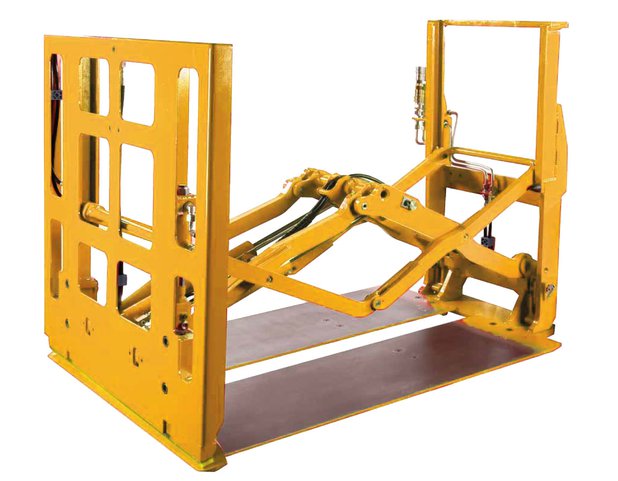 Push-Pulls
---
Product code: PUSH_PULL
Product description
Products of every kind are being handled on slipsheets instead of wooden pallets. Slipsheets are being used in various industries such as food, beverage, glassware, building materials, agricultural, paper, chemical, hardware and the automotive parts industry.
Ideal model for those companies where the handling of goods on slip sheets is not sufficient to justify the use of a dedicated fork lift truck.
Thanks to an extremely quick and effective new fitting system, the Fork-Mounted Push Pull offers the possibility to convert a conventional fork lift truck with forks into a specially equipped machine to handle loads on slip sheets. Increasing productivity without any compromise for safety.
The driver just has to position the forks under the platens, tilt the mast forward, lift the carriage up, engage the upper hooks, lock the lower mounting hooks in place and connect the hydraulic couplers. These simple steps now make the push-pull ready for operation.
Wide windows in the push plate and gripper jaw allows for excellent visibility in both retracted and extended positions when clamping the slip-sheet.
4 degrees tilting faceplate, when fully extended, helps prevent any damage to the product.
Gripper jaw is actuated by two cylinders, assuring a perfect force distribution on the clamping bar to help prevent any damage to the slipsheet.
Pressure relief valve guarantees structure and load protection.
The vertical position of the pad is adjustable should the pad become worn or damaged, resulting in less maintenance costs.
Rubber-surfaced gripper bar for better slipsheet clamping.
Pantograph actuated by two cylindersfor better distribution of pushing and pulling forces .
Platens manufactured in high tensile steel, for stronger and thinner structure.
Available in both stainless steel and painted steel.
Tailored solutions - Custom design for your needs.
Reliable experience - Over 30 years of successes.
ATEX certification - Possibility to ATEX conversion.
Customer support - Immediate answers and solutions.
---
Technical specifications
| | |
| --- | --- |
| Capacity | 1600 kg |
| Centre of gravity | 600 mm |
| Weight | 350 kg |
| Platform dimensions | 380x1220 mm |