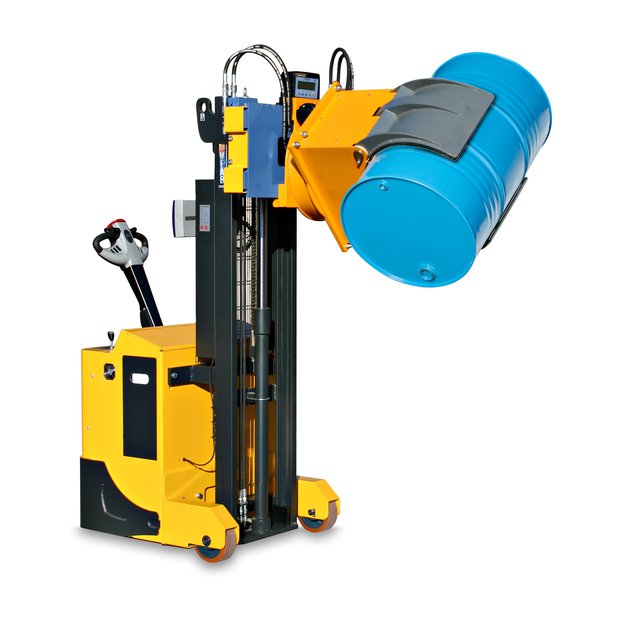 Product description

Strong and reliable, BS91 ETC can be an economical alternative to the BS106 counterweighted trolley.
Equipped with an efficient lateral drum tilter, it is the ideal product to move drums without the footprint of the trolley.
ERGONOMICS: the double column stanchion can reach high heights while the clamping, lifting and rotation controls are lever-operated and located on the dashboard.
RELIABILITY: the 240 A/h battery and the 1.4 kW AC traction and 2.2 kW DC lifting motors make it a reliable trolley.
SAFETY: today's working world pays more and more attention to the operator's safety, for this reason VEAB trolleys are equipped with many accident prevention systems such as:
Blocking valves to prevent the drum from falling if the hydraulic hoses are cut.
Maximum pressure valve for correct tightening of the drum.
"Low speed" function for safe manoeuvring in narrow spaces.
System that prevents accidental start of travel, detects the minimum angle of tilting (on request also the maximum angle) of the helm with respect to the vertical allowing the operation only with the operator in a suitable driving position.
Operator anti-crushing system integrated into the helm head to prevent operator crushing regardless of position and build.
Warning buzzer when reversing.
Safety guards.
Available in both stainless steel and painted steel.
Tailored solutions - Custom design for your needs.
Reliable experience - Over 30 years of successes.
ATEX certification - Possibility to ATEX conversion.
Customer support - Immediate answers and solutions.
---
Technical specifications
| | |
| --- | --- |
| Model | BS91 ETC DVLI |
| Tilter | Lateral, hydraulic |
| Capacity | 200 / 1000 kg |
| Centre of gravity | 700 mm |
| Plate | Fem 2B |
| Weight with battery | 1600 kg |
| Driving | Helm |
| Power steering system | Present |
| Grip | Lever on the dashboard |
| Lifting | Lever on the dashboard |
| Rotation | Lever on the dashboard |
| Battery | 24V 260 A/h |
| Battery charger | External HF 24V 30A/h |
| Drive motor | 1,4 kW AC |
| Lifting motor | 2.2 kW DC |
| Travel speed | 4 km/h |
| Lifting speed | 0.14 m/s |
| Drum rotation speed | 3 rpm |
| Length | 2600 mm |
| Width | 850 mm |
| Height | 2000 mm |
| Max. lifting height | 6000 mm |
| Turning radius | 1460 mm |
| Gripping range | D 300/600 mm |
| Height of gripping jaws | 400 mm |
| Max working pressure | 180 bar |
| Warranty (years) | 1 |