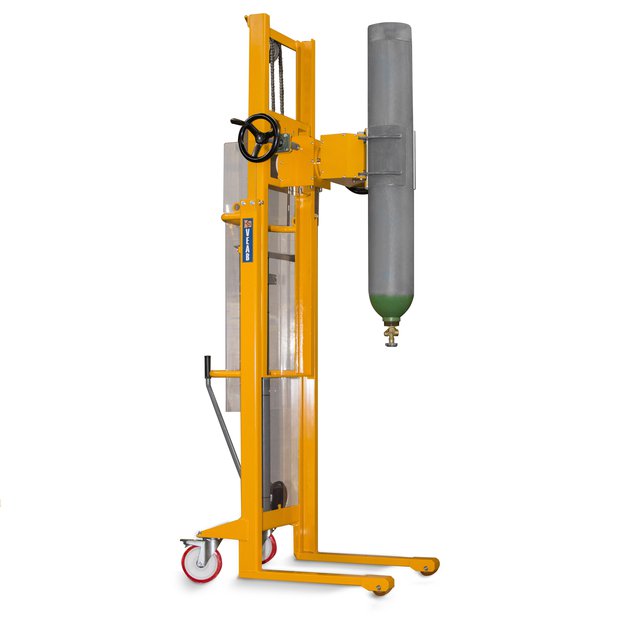 Product description
The manual trolley BS91 B equipped with a manual lateral tilter is the ideal product if a small quantity of bottles (up to a maximum weight of 300 kg) with different diameters and types.
The bottle is gripped by clamping jaws completely covered with interchangeable rubber and locked with a sturdy clamping handwheel; continuous 360° lateral rotation is achieved by manually actuating the handwheel, which can engage a chain to make it easier for the operator to empty the bottleat height. The bottles can be kept reverse even for long periods.
A special feature of all VEAB manual tilting trolleys, which is uncommon and should not be underestimated from a safety point of view, is that they keep the bottle stable in the emptying position once rotated.
Available in both stainless steel and painted steel.
Tailored solutions - Custom design for your needs.
Reliable experience - Over 30 years of successes.
ATEX certification - Possibility to ATEX conversion.
Customer support - Immediate answers and solutions.
---
Technical specifications
| | |
| --- | --- |
| Model | BS91 B |
| Tilter | Lateral, manual |
| Capacity | 300 kg |
| Weight | 270 kg |
| Drive | Manual traction |
| Grip | Manual by handwheel |
| Lifting | Manual with lever pump |
| Rotation | Manual by handwheel |
| Length | 1250 mm |
| Width | 1150 mm |
| Height | 2000 mm |
| Max. lifting height | 1500/2500 mm |
| Turning radius | 1070 mm |
| Warranty (years) | 3 |