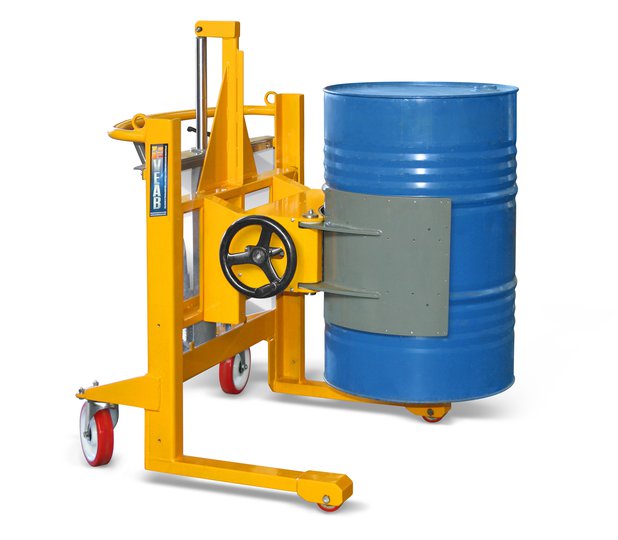 Product description
Single-drum Trolley for gripping metal, plastic and cardboard drums on the cylindrical edge.
If you need to transport drums without upper edge, the BS91 PFV trolley is the ideal solution because the drum is firmly attached to the cylindrical part by two 400 mm high gripping jaws completely covered with interchangeable rubber, manually operated by a handwheel.
The drum is lifted and lowered manually by means of a lever pump.
Optional items:
Special frame and cradle designs
Available in both stainless steel and painted steel.
Tailored solutions - Custom design for your needs.
Reliable experience - Over 30 years of successes.
ATEX certification - Possibility to ATEX conversion.
Customer support - Immediate answers and solutions.
---
Technical specifications
| | |
| --- | --- |
| Model | BS91 PFV |
| Capacity | 300 kg |
| Weight | 210 kg |
| Drive | Manual traction |
| Grip | Manual by handwheel |
| Lifting | Manual with lever pump |
| Length | 850 mm |
| Width | 500/1400 mm |
| Height | 1200/2000 mm |
| Max. lifting height | 600/1400 mm |
| Turning radius | 870 mm |
| Gripping range | D 300/700 mm |
| Height of gripping jaws | 400 mm |
| Warranty (years) | 5 |