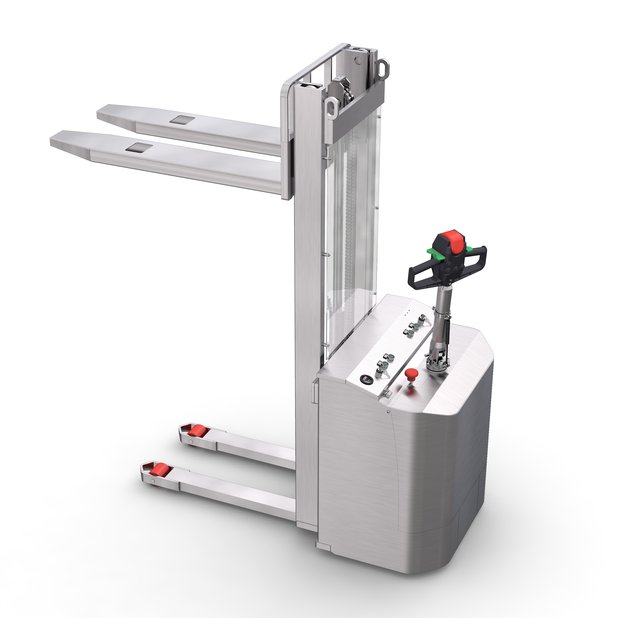 Electric trolley with forks
CAPACITY 1200 kg
---
Product code: BS91_ET_F
Product description
BS91 ET - perfect for handling pallets or bins - can be equipped with fixed forks covering the feet of the truck or forged forks that can translate onto the plate.
With significant strengths such as ergonomics, reliability, durability, safety in use and cleanliness, this cart needs few maintenance, and it is the perfect working partner in food environments.
ERGONOMICS: BS91 ET is a fast, easy maneuverable truck that can reach high storage heights (3000 mm) using the lift button placed on the driving wheel.
RELIABILITY: The range of operation and speed of movement are strengths guaranteed by the use of the 260 A/h battery (with 24V-30A/h built-in HF charger to easily recharge from the 230V power outlets) and the 1.4 kW AC and 2.5 kW DC traction engines. Both lift and translation speeds can be customised in the truck.
SAFETY: BS91 ET is equipped with several safety systems that make it perfectly in line with the increasingly demanding regulations regarding the operator's safety:
- parachute valves to prevent the forks and load from falling if the hydraulic pipes are sheared,
- "reduced speed" function to safely manoeuvre the truck even in confined spaces,
- system that prevents accidental running start, detecting the minimum angle of tilt of the rudder in relation to the vertical (on demand also the maximum angle) allowing it to be enabled only with the operator in the appropriate driving position,
- anti-crushing system built into the rudder head to prevent the operator from crushing regardless of their position and build,
- double lift chain,
- fuse for electrical voltage overloads,
- emergency button (disconnect battery) in an easy position to operate,
- warning buzzer during reverse,
- safety fairing.
CLEANING: the casing of the truck with edging fully made of stainless steel (AISI 304) perfectly protects it against water sprays and dust intrusion. Moreover, thanks to it the truck can be easily cleaned even with aggressive products.
Available in both stainless steel and painted steel.
Tailored solutions - Custom design for your needs.
Reliable experience - Over 30 years of successes.
ATEX certification - Possibility to ATEX conversion.
Customer support - Immediate answers and solutions.
---
Technical specifications
| | |
| --- | --- |
| Model | BS91 ET F |
| Drive | electric |
| Capacity | 1200 kg |
| Centre of gravity | 600 mm |
| Weight with battery | 970 kg |
| Driving | Helm |
| Lifting | Button placed on the helm |
| Battery | 24V 260 A/h |
| Battery charger | Internal HF 24V 30A/h |
| Drive motor | 1,4 kW AC |
| Lifting motor | 2.5 kW DC |
| Electronic | Zapi |
| Travel speed | 5 km/h |
| Lifting speed | 0,16 m/s |
| Length | 1920 mm |
| Width | 810 mm |
| Height | 2100 mm |
| Max. lifting height | 3000 mm |
| Turning radius | 1520 mm |
| Max working pressure | 180 bar |
| Warranty (years) | 2 |