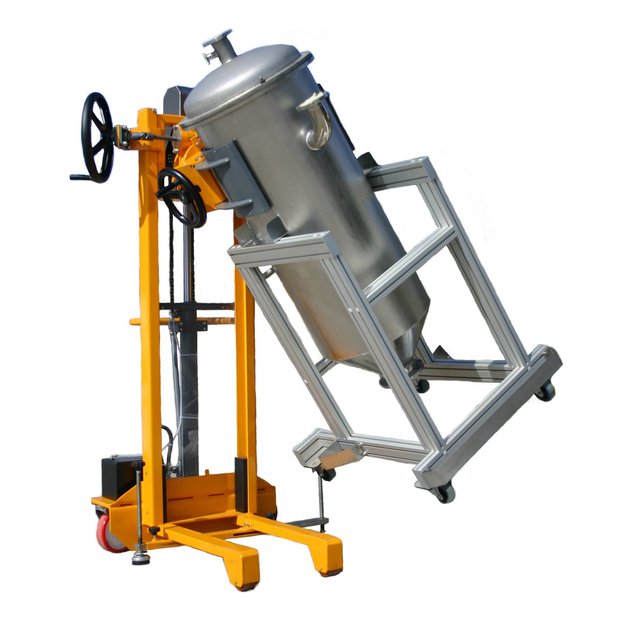 Manual trolley complete with tilter for tanks
---
Product code: BS91_DVLN
Product description
The manual trolley BS91DVLN equipped with a manual lateral tilter is the ideal product if a small quantity of tanks (up to a maximum weight of 300 kg) with different diameters and types.
With the help of appropriate accessories we are also able to handle tanks that are not cylindrical or objects with special shapes.
The tank is gripped by clamping jaws completely covered with interchangeable rubber and locked with a sturdy clamping handwheel; continuous 360° lateral rotation is achieved by manually actuating the handwheel, which can engage a chain to make it easier for the operator to empty the tanks at height.
A special feature of all VEAB manual tilting trolleys, which is uncommon and should not be underestimated from a safety point of view, is that they keep the tank stable in the emptying position once rotated.
The trolley is equipped with lateral stabilizers that guarantee the stability of the trolley even during lifting and rotation operations.
Available in both stainless steel and painted steel.
Tailored solutions - Custom design for your needs.
Reliable experience - Over 30 years of successes.
ATEX certification - Possibility to ATEX conversion.
Customer support - Immediate answers and solutions.
---