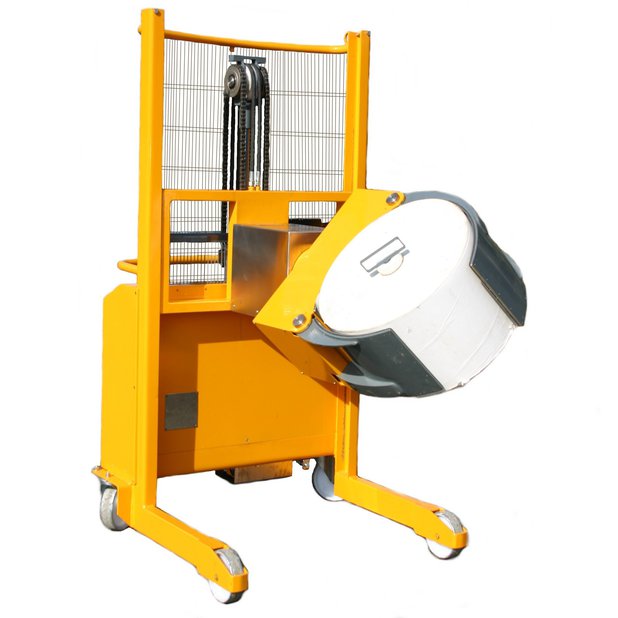 Trolley with electric lifting, complete with SIDE tilter for reels
Tilting trolley for reels of different diameter and height
---
Product code: BS91_DVLEB
Product description
BS91 DVLEB is an electric reel lift tilter trolley equipped with a manual lateral tilter capable of handling a wide variety of reels; the lifting and lowering by means of an electric motor (push-button operated) allows significant heights to be reached in a short time and without any effort on the part of the operator. The electric motor, the armoured battery (12 V 130 A/h) and the high frequency battery charger are placed in a special compartment, which has IP55 protection degree against the penetration of dust and water splashes.
The reel is gripped by the 200/600 mm high clamping jaws, completely covered with interchangeable rubber and locked with a sturdy clamping handwheel; continuous 360° lateral rotation is achieved by manually actuating the handwheel, which can engage a chain to make it easier for the operator to rotate the reels at height. With the help of appropriate accessories we are also able to handle objects with special shapes.
A special feature of all VEAB manual tilting trolleys, which is uncommon and should not be underestimated from a safety point of view, is that they keep the drum stable in the emptying position once rotated.
Optional items:
Special frame and cradle designs
Accessories for special drums or containers
Available in both stainless steel and painted steel.
Tailored solutions - Custom design for your needs.
Reliable experience - Over 30 years of successes.
ATEX certification - Possibility to ATEX conversion.
Customer support - Immediate answers and solutions.
---