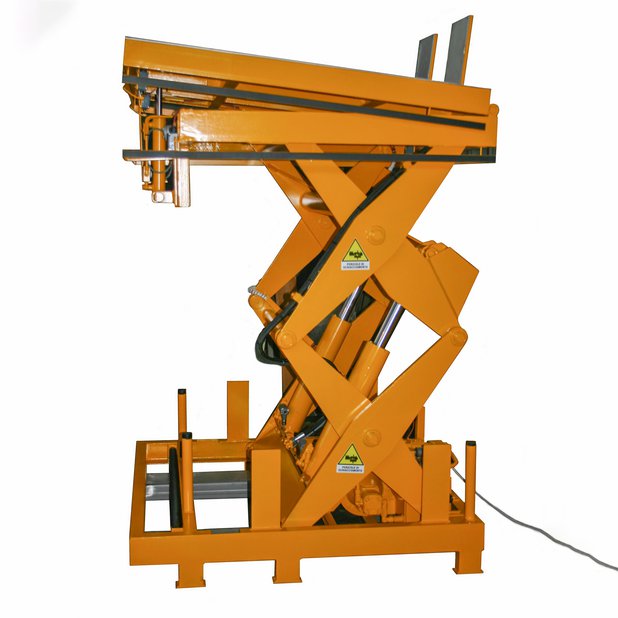 Product description


The pantograph lift table is a very useful machine for the complete emptying of tanks, especially when they have to be emptied by falling product and their content is particularly viscous.
With the possibility of lifting and tilting the tank up to 15° even when fully loaded, BS103 I offers the pumping station the possibility of completely emptying it. The tank is lifted and tilted in just a few seconds by pressing the appropriate buttons on the electrical control panel. The same procedure shall be followed for the return of the tank to the unladen condition once emptied.
Built in sturdy metal structural (stainless steel or painted with anti-rust and enamel) at the customer's request, the pantograph lift table can be equipped with guards, with safety sensors located on the access doors to the work area.
Available in both stainless steel and painted steel.
Tailored solutions - Custom design for your needs.
Reliable experience - Over 30 years of successes.
ATEX certification - Possibility to ATEX conversion.
Customer support - Immediate answers and solutions.
---
Technical specifications
| | |
| --- | --- |
| Model | BS130 I |
| Capacity | 1500 kg |
| Weight | 1300 kg |
| Power control unit | 3 kW 400V |
| Oil tank | 30 l |
| Length | 1200 mm |
| Width | 1000 mm |
| Height | 800 mm |
| Max. lifting height | 2000 mm |
| Inclination | 15° |
| Warranty (years) | 2 |