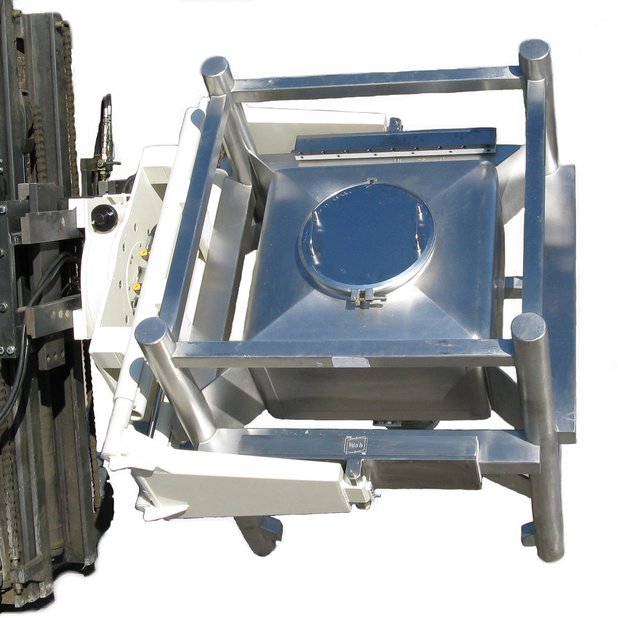 LATERAL hydraulic tilter for IBCs
Installed on the Fem plate of the forklift
---
Product code: BS121_IBC
Product description
Hydraulic front tilter that can be installed on the Fem plate of the forklift, for rotating IBCs and different pharmaceutical containers.
The BS121 IBC tilter has been designed to rotate pharmaceutical containers such as Bins or IBCs. The container is fastened by means of sturdy gripping jaws, completely coated with highly resistant plastic material with FDA food approval certificate, which are hydraulically operated by a pair of cylinders; the hydraulic rotation is always at the right/left side by 360°.
Hydraulic actuation of the clamping/release and rotation offers important advantages: first of all it allows the IBCs to be moved and rotated without the operator having to leave the forklift; secondly, thanks to the maximum pressure valve, the IBCs can always be tightened with the correct clamping pressure (neither too weak nor too high) and last but not least, from a safety point of view, the block valves located on the cylinders keep the IBCs tight even in the event of hydraulic pipes being cut.
The tilter is simply and safely secured to the forklift plate by means of the clamping bracket.
Available in both stainless steel and painted steel.
Tailored solutions - Custom design for your needs.
Reliable experience - Over 30 years of successes.
ATEX certification - Possibility to ATEX conversion.
Customer support - Immediate answers and solutions.
---
Technical specifications
| | |
| --- | --- |
| Tilter | Lateral, hydraulic |