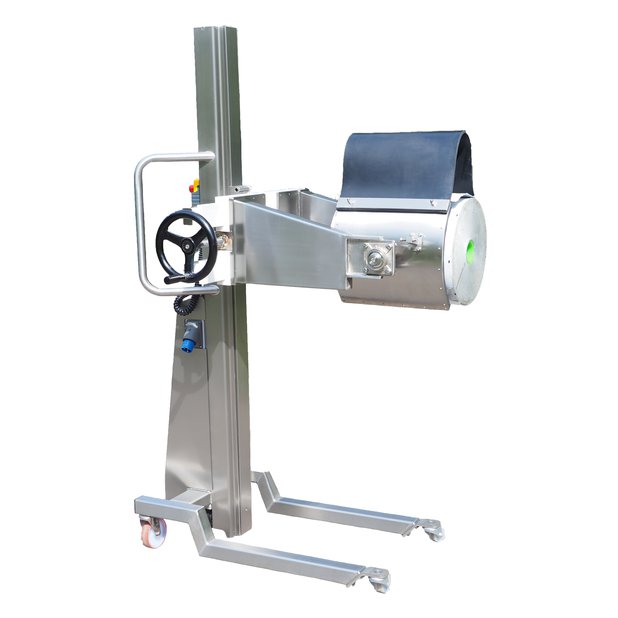 Product description
BS120 SL DVB is an electric coil lift tilter trolley for reduced light equipped with a manual frontal tilter capable of handling a wide variety of coil/reel with a maximum weight of 150 kg; the lifting and lowering by means of an electric motor (push-button operated) allows significant heights to be reached in a short time and without any effort on the part of the operator.
The single column at the centre of the trolley offers a good view from all angles and makes it extremely manoeuvrable; it also allows, in the stainless steel version, high quality finishes that can be easily cleaned even with aggressive products.
The coil is gripped by the 400 mm high clamping jaws, completely covered with interchangeable rubber and locked with a sturdy clamping handwheel; continuous 360° frontal rotation is achieved by manually actuating the handwheel, which can engage a chain to make it easier for the operator to turn the coils at height.
A special feature of all VEAB manual tilting trolleys, which is uncommon and should not be underestimated from a safety point of view, is that they keep the coil stable in the position once rotated.
Available in both stainless steel and painted steel.
Tailored solutions - Custom design for your needs.
Reliable experience - Over 30 years of successes.
ATEX certification - Possibility to ATEX conversion.
Customer support - Immediate answers and solutions.
---